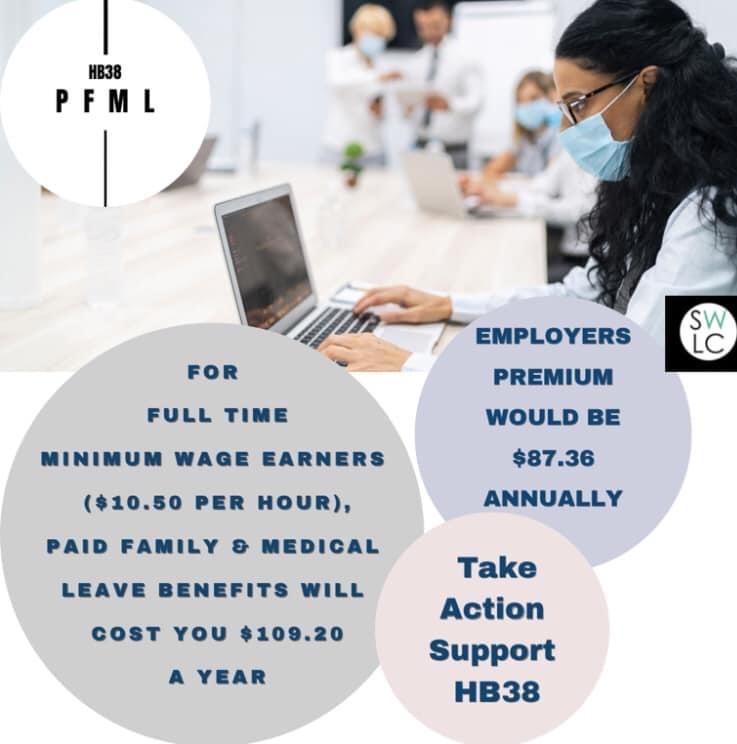 Please call the Governor's office today and urge her support for the state's investment in a Paid Family & Medical Leave program. Governor Lujan Grisham makes the final decision about whether to sign the bill. She needs to hear what having a Paid Family & Medical Leave program would really mean for working families.

Where to call
Governor's Office: (505) 476-2200

What you might say
"I am calling to urge the Governor to stand in support HB38. I believe that working families shouldn't be forced to choose between paying their bills and caring for their health and their families. An investment in Paid Family & Medical Leave is an investment in New Mexico's future."
Urge House Appropriations & Finance Committee to vote "Do Pass" on HB38.
During the House Judiciary Committee, HB 38 got another committee assignment. Our next stop is House Appropriations and Finance Committee, and we need to ask them to invest in working families by supporting HB 38. Time is of the essence. We will provide an update when this is scheduled.
Email/call members of the Committee to express your support for HB 38 and ask them to schedule and vote yes on HB38.
Share this message widely. Mobilize your networks to email Committee members and ask them to vote yes on HB38.
Prepare a public comment to share during the hearing. We've seen the power of public comments. A 60 second story can persuade legislators and change votes. Reach out to us if you need support in preparing your remarks.
House Appropriations & Finance Committee members are:
Patricia A. Lundstrom (Chair)
Capitol: (505) 986-4316
Email: patricia.lundstrom@nmlegis.gov
Nathan P. Small (Vice Chair)
Capitol: (505) 986-4319
Email: nathan.small@nmlegis.gov
Anthony Allison
Capitol: (505) 986-4436
Email: anthony.allison@nmlegis.gov
Phelps Anderson
Capitol: (505) 986-4226
Email: phelps.anderson@nmlegis.gov
Gail Armstrong
Capitol: (505) 986-4227
Email: gail@gailfornewmexico.com
Cathrynn N. Brown
Capitol: (505) 986-4227
Email: c.brown.nm55@gmail.com
Ambrose Castellano
Capitol: (505) 986-4236
Email: ambrose.castellano@nmlegis.gov
Jack Chatfield
Capitol: (505) 986-4467
Email: jackchd67@gmail.com
Randal S. Crowder
Capitol: (505) 986-4215
Email: randal.crowder@nmlegis.com
Meredith A. Dixon
Capitol: (505) 986-4210
Email: meredith.dixon@nmlegis.gov
Candy Spence Ezzell
Capitol: (505) 986-4454
Email: csecows@aol.com
Harry Garcia
Capitol: (505) 986-4233
Email: hgarciad69@gmail.com
Susan K. Herrera
Capitol: (505) 986-4249
Email: susan.herrera@nmlegis.gov
Dayan Hochman – Vigil
Capitol: (505) 986-4432
Email: dayan.hochman-vigil@nmlegis.gov
T. Ryan Lane
Capitol: (505) 986-4226
Email: ryan@laneforliberty.com
Raymundo Lara
Capitol: (505) 986-4233
Email: raymundo.lara@nmlegis.gov
Debra M. Sarinana
Capitol: (505) 986-4438
Email: debbie.sarinana@nmlegis.gov
Candie G. Sweetser
Capitol: (505) 986-4255
Email: candie.sweetser@nmlegis.gov
Christine Trujillo
Capitol: (505) 235-8783
Email: christine.trujillo@nmlegis.gov